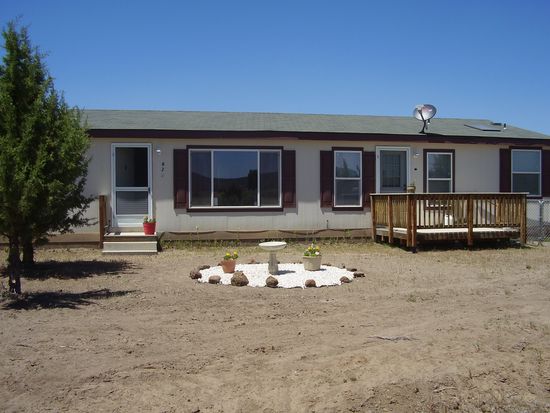 4 bedrooms, 2 baths 1620 SF $115,000
2005 Fleetwood Manufactured custom made home on one acre in California Pines in Alturas, Ca. 96101. For sale by owner . Brand new laminate flooring, New bathroom floors. Four bedrooms, 2 baths, 1 utility room with tile floors, sink and extra shower, shelves, washer/dryer. Skylights in kitchen and master bathroom. Master bath includes whirlpool tub, shower, skylight. Master bedroom includes walk in closet and door going out to deck and gate, 10' x 10'. Kitchen has stove,
dishwasher, garbage disposal, skylight, door to 17' x 20' deck with gate. garbage disposal. 11 rooms. Vaulted ceilings. Excellent insulation. Very peaceful. Composition outside walls and shingle roof. Lot included double car steel carport next to door coming out from utility room and kitchen, permanent foundation, well with septic tank, watershed with storage room of 12' x 12' and water system, 50' x 100' dog run or garden area with too raised beds, juniper trees in front. Extra big windows all the way around for nice views of hills and trees. R19 insulation in walls and R30 insulation in roof. Central heat with inexpensive Surprise Valley and A/C. 240 elect. voltage, gable ready. Very peaceful, lots of privacy. Could be used as a vacation home. 828 Drake Rd., Alturas, CA 96101. If you ever wanted a good deal, this is it!
Listing on
Zillow.com
includes additional photos. Zillow has it mapped incorrectly. Find location on Google Maps
HERE
.
Call Nancy, the owner, at 530-710-1384 or 510-407-5082 or email at nbrown82005@yahoo.com for more info.